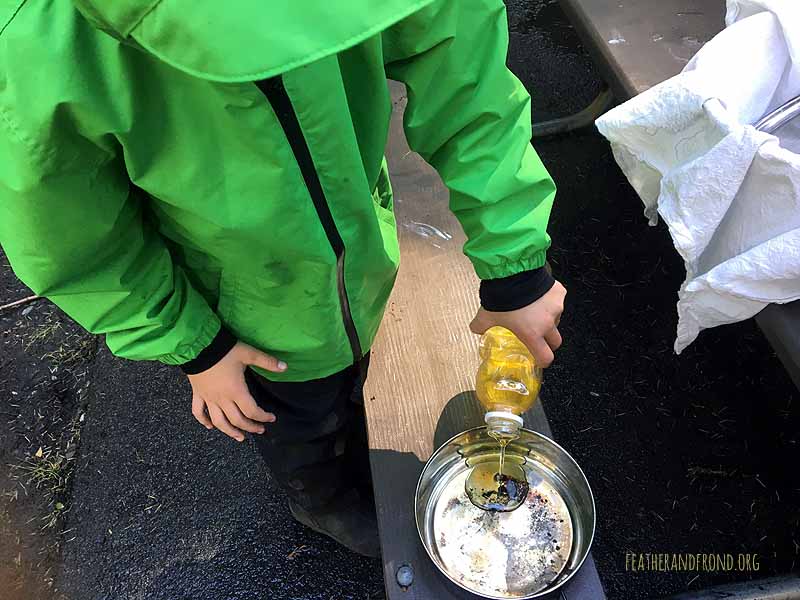 Wow, can you believe that we've only got 7 weeks of forest school left?! The Fire Keepers have been real busy this Spring. . .
Week 26 brought us what seemed like the rainiest, wettest Wednesday of the entire school year! So Pat and I decided to take that opportunity to give the Fire Keepers a rainy-day fire challenge! And challenging it was! We split the Fire Keepers up into two groups, and each worked on getting their own group fire going. They had to collect their own materials and build a structure in their own grill. When they were ready, each group selected a member to light the match and see if their structure was a success.
Despite the heavy rains, both groups were pretty successful at this challenge. Afterwards the groups combined their fires to make one huge epic fire (which was needed, because it was soo cold and wet!). Then we cooked Stinging Nettles and felt deep gratitude for the picnic shelter, otherwise we would have been getting pretty soaked at snack time. We then went on a wander to coyote meadow and found an epic steep hill to slide down. !t was incredibly fun, and we all got amazingly muddy! A very wetland muddle game of Wolf Ball then ensued. . .
Last week, we spent the morning going a little deeper with Plant ID. We played two really helpful games which bring greater awareness to the plant identification: Plant Concentration and Steal the "Plant" Bacon. Not only were those games very informative and fun, but the Fore Keepers developed a bit of an obsession with Cleavers (Galium aparine) afterwards, which is a plant with barbed leaves that act like "velcro" when thrown at people's clothes. Watch out for the Cleaver Monsters…
Another highlight from last week was harvesting Big Leaf Maple Blossoms, Dandelion blossoms, and Lady Fern fiddleheads. We then dipped them in pancake batter, fried them up in oil over the fire, and enjoyed these wild fritters with a little bit of maple syrup! Yum!
We're looking forward to more wild fun tomorrow at Family Day! See you then!