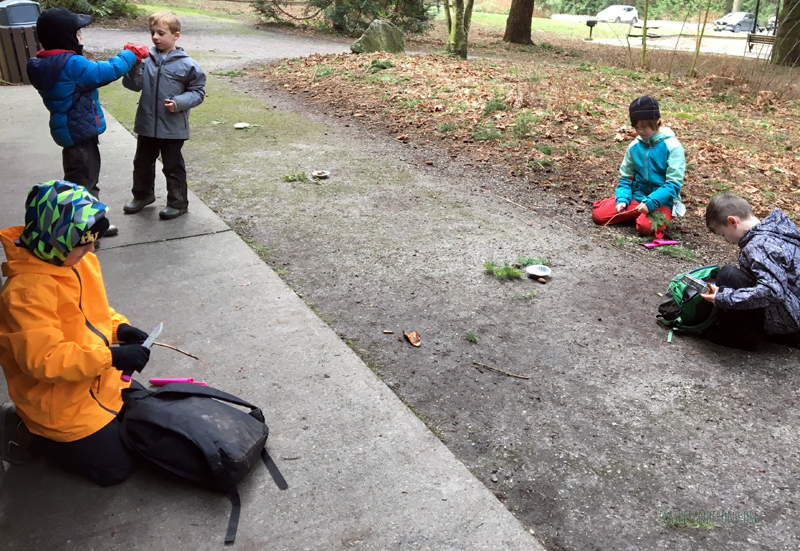 It has been a couple of wild weeks to start the new year with the Fire Keepers at Whatcom. The first week we re-acclimated to our favorite spaces before increasing winds sent us to the meadow for game and kite flying while last week we really sunk into our "Faerie Fire" Challenges. A "Faerie (or Fairy) Fire" is a tiny fire using materials not much larger than matchstick. This sounds easy, but actually takes a lot of focused attention , especially if you want to maintain a fire over an extended period of time. This is an amazing resource for teaching and practicing fire skills. On this day, no one was able to successfully start and maintain a fire even with two solid attempts. We will return to this a lot as Melissa and I both find it to be a vital resource and the children all are extremely drawn to fire 🔥.

What a great teacher building and maintaining such a tiny fire is. Each pair (randomly chosen out of a basket, your partner matched your tree part) had the support of their peers as they attempted to take a coal from the main fire and blow their materials into flam. After all of that hard work and focus, we talked about what worked and what didn't and had a really nice lunch time. Then of course, we marched up to the tallest hill in the park and had an AMAZINGLY EPIC DANCE PARTY before playing some really great rounds of the game "Fire Keeper". This game is a sneaky one which allows us to slow down and sink into our bodies while practicing our fox-walking and using our Deer Ears.

The week before was our first week back from a long break. We played favorite games and went on a big adventure to checked in on Vine Maple Village before the increasing winds determined it would be safer out of the forest in the meadow. This allowed some time for kite flying (such a classic expression of outdoor joy for kids of all ages is kite flying!) and sit spot before we played a huge game of Wolf Ball! It is the kind of game the kids just can't get enough of.

Nature highlights included finding a deceased squirrel, some new green things growing (Indian Plum is blooming! Chickweed! Bittercress!), weird finger like yellow mushrooms and a host of fallen trees, and branches after several windy weeks away. Oh and the falls are RUSHING right now… If you haven't gotten a chance to see them from the bridge do yourself a favor — they are quite a treasure hiding right in the middle of town.