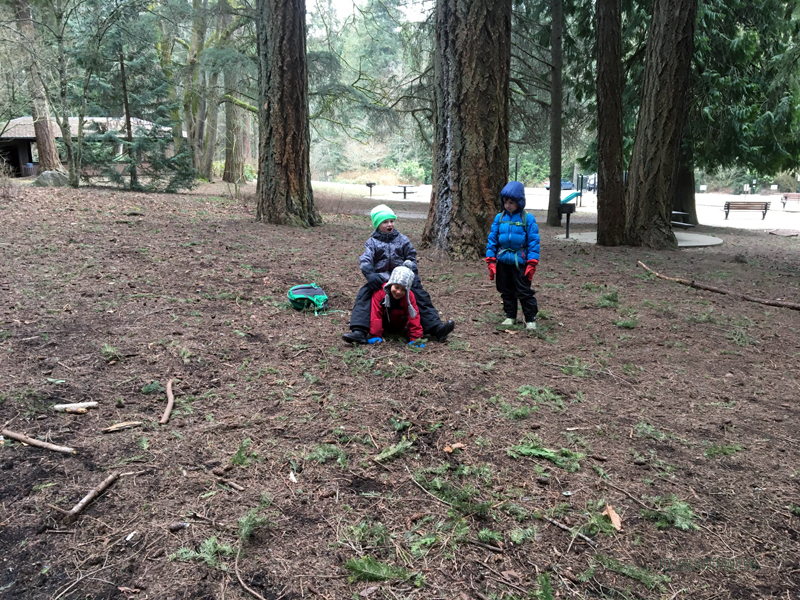 Wow. So would you believe me after all this sunshine if I told is snowed at Fire Keepers two weeks ago? I was there and just looked at the pics and I can still hardly believe it!

What a magical couple of weeks we have had on program. Two weeks ago, it was a extra cold morning and after playing a high-paced game of Coyote and Badger, we went on a huge adventure to keep our body heat cranked up! It was awesome — we went further then ever before and discover some really neat little nooks, including "Grass Island", only accessible by walking a log across a frozen waterway. We found sign of Beaver and Deer amongst Willow and Red-Osier Dogwood that seemed quite ready to shake off the winter. The were in a frenzy of ice breaking activity. The birds we all around us in a frenzy of pre-storm activity while thick clouds gathered overhead as a cold wind picked up. Something felt different and as we had lunch on a protected bank, the first flakes started to fall slow and fat. "Can it be?!?!?" "Snow!!!" "Woo-hoo!" We were stoked, as it felt really special to be out at that point…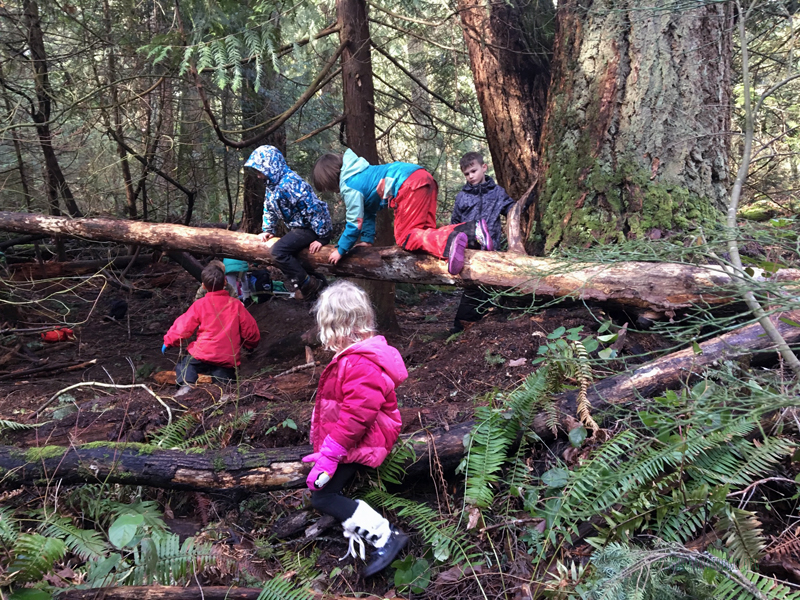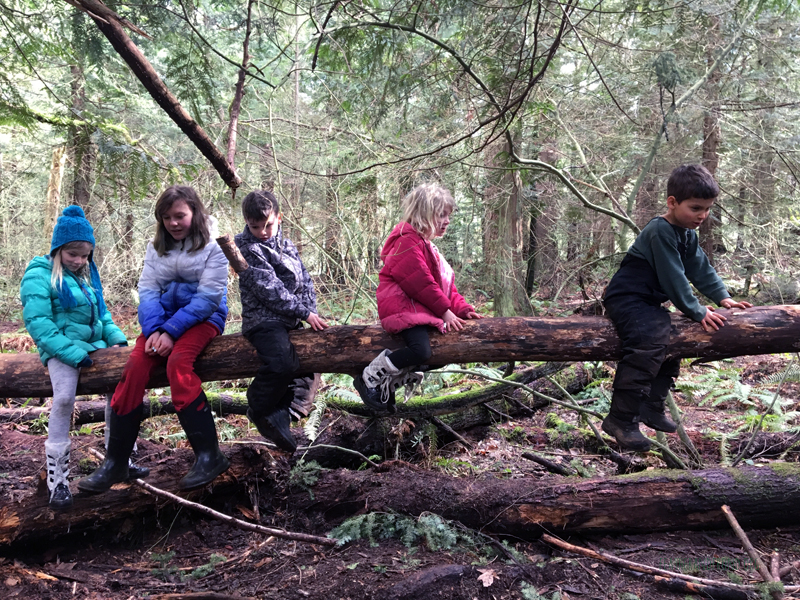 We then had a magical snowy adventure making tracks and catching flakes on the tongue on the way to Owl Pellet Plateau in the snow and we only got lost once. We still had time to play and work on some projects, crank on a bow drill kit or practice parkour and one play one EPIC game of Forest Wolf Ball complete with log obstacles and our class "wolf" Leo before heading home. When we left the forest for the all white paths, we realized how much snow had fallen!

Then this past week, it was totally different. The weather was clear and a bit warmer, we had some visitors and one really good time! In the milder morning air were able to check out our Bird Wing collection of processed road kills. Grateful that these creatures, continue to teach, inspire, and connect after death.

Our theme was sit spot and it is such a magical time connect with a certain place close to home. Being the week before spring there was plenty of activity in the forest! Lots of Varied Thrushes low and whistling, Chickadees singing their "See-lee" spring song, Hairy Woodpeckers chasing each other throughout the canopy, our Barred Owls friends calling back and forth for the 6th straight week in a row! The plants that got stalled by the deep freeze are starting to feel safe to come out again. The Indian Plum leaves are particularly choice right now.

We made char cloth and imitated animals in small groups, and imitated animals balancing on logs in the forest.

There was plenty of choice based time and some chose to help saw and drill and bop while making some bird feeders to share with our feathered friends of the forest. We sat with them for a bit and will return to see if they have been enjoying our gift. What a magical time to be outside and witness the unfurling of spring upon the land! I highly recommend to all the adults as well as the kids to go find a sit spot at home to sit for 5, 10, 20, or more minutes a day. Turn off your phone or leave it inside and breathe in deep. I bet you will feel better after.