The past two weeks of Fire Keepers have been jam-packed with games, projects and adventures. Here's a little bit about what we've been up to:
Week 2
We started off our morning together with a few rounds of Ninja Noodle in the meadow. We love this game because it offers a fun opportunity for students to practice two very important core awareness routines: Fox Walking and Deer Ears. A few of us also spent some time processing Blue Elderberries that Pat and I recently harvested from eastern WA. We plan on using these berries to make medicinal Elderberry syrup with the Fire Keepers next Wednesday! We also used a mushroom identification key to figure out the Genus of a massive mushroom that Pat had found that morning! We made a spore print to help us with the identification process as well. Pat and I are currently taking a weekly mycology course, so we're excited to share what we've been learning in regards to how to properly identify some common fungi.

After hearing the story of a fire quest that some young scouts named Grima, Linnae and Jan were challenged to as part of their Secret Scout Society training, the Fire Keepers were then presented with their own fire challenge. Pat and I gave them 15 minutes to work together to get a sustainable fire going. After bit of trial and error and teamwork, the Fire Keepers eventually lit up a nice fire using a ferro rod! Then they whittled themselves some roasting sticks and celebrated their success by roasting food over hot coals.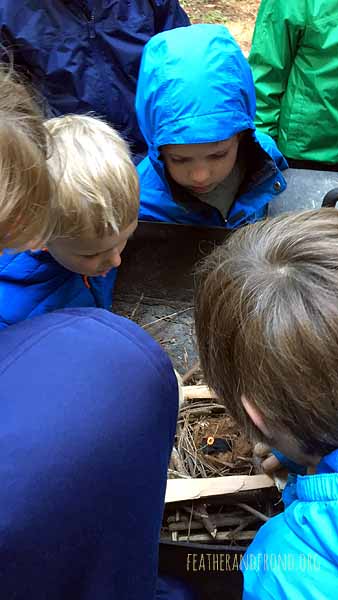 After lunch we adventured out to Magic Cattail Land, a favorite spot for many of our students. Along the way, we encountered some fascinating otter scat at the edge of the pond. It was full of shells and pretty stinky! Hmm.. I wonder which crustaceans otter has been eating??
Once at Magic Cattail Land, we examined young Pacific Chorus Frogs. We had a blast trying to catch them in the stinky swamp! Some of the Fire Keepers also challenged themselves to parkour moves on the log!
We ended our time together with a few rounds of Coyotes and Rabbits up on Drum Hill. While we were up there we also discovered a massive Bald-faced Hornet nest! There was a little bit of activity in and out of the nest, but we were able to observe it from a short distance without disturbing the creatures. It truly was impressive!
Week 3
Our morning was spent making medicinal Elderberry Syrup (for more info on the benefits of Blue Elderberries and where we like to harvest them, check out my Wild Wednesdays blog HERE ) and playing a new (to us!) game called Wolf Ball (thanks to Sawyer for teaching it to us!)
Inspired by the Rabbit Dance story that Pat shared, we then set off on an adventure to Drum Hill (we call this place Drum Hill because last year's Fire Keepers liked to jam out on "drum sets" that they made from rocks and logs in this secret plateau above the creek/falls). Along the way, we were awe-inspired by the abundance of spider webs that we encountered. We spent some time examining these webs and the variety of orb spiders that weave them. It's truly a fascinating phenomenon!
Once we arrived at Drum Hill, we played a fun and playful name game called Rabid Badger, followed by a sneaky Fox Walking/Deer Ears game called Fire Keeper. We love playing Fire Keeper because it magically shifts the group into a space of quiet awareness.
After lunch, we focused on our whittling project for the day. Each Fire Keeper utilized a variety of whittling skills to create percussive "scrapers/drums" (reminiscent of the guiros of Latin America) out of green Holly branches. Afterwards we had a jam session with our freshly crafted instruments! It was beautiful!
We ended our day with a visit to Clay Beach, where we found raccoon tracks, played in the clay, and closely observed Mallards during sit spot time.
It's been a wonderful first few weeks of Fire Keepers and we are grateful for this enthusiastic crew of students. We hope you enjoy the Elderberry syrup! May is help you and your family to stay healthy this winter. Remember to keep it refrigerated!
We look forward to this week's adventures with the Fire Keepers!